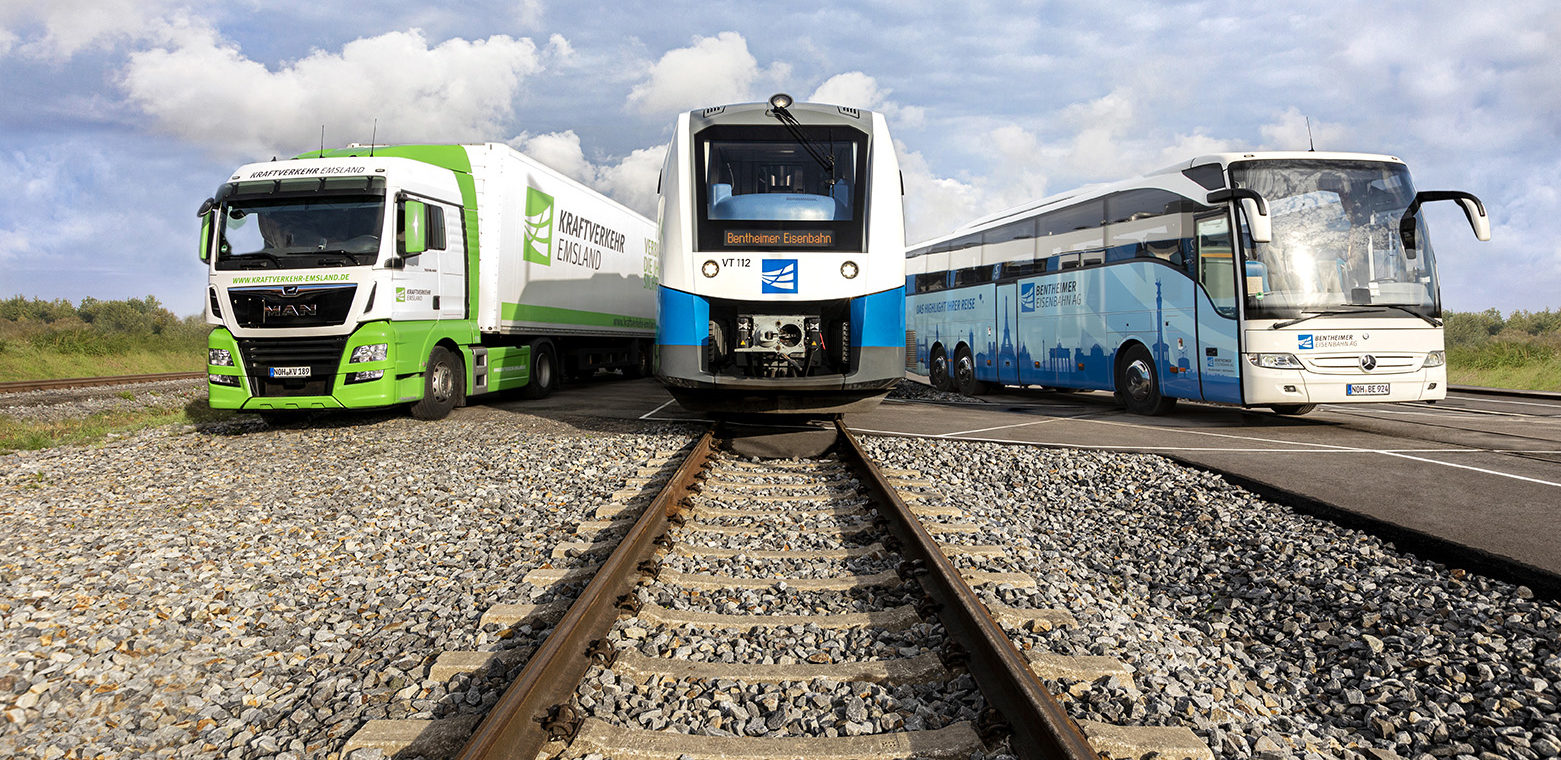 About us
Who we are
A piece of Grafschaft Bentheim, that is the Bentheimer Eisenbahn AG for more than 120 years.
With a linenetwork of about 1,280 km, Bentheimer Eisenbahn AG is the largest provider of local public transport in the Grafschaft Bentheim. Since 1996, we have been a shareholder of the Verkehrsgemeinschaft Grafschaft Bentheim (VGB) together with the bus companies Nordhorner Versorgungsbetriebe GmbH and Richters Reisen GmbH. Attractive and differentiated offers, which are oriented towards the needs of the people in our region, ensure mobility day after day.
Tariff community – easy to understand
For the customers and passengers of Bentheimer Eisenbahn AG, VGB has led to a considerable simplification of fares in addition to many advantages in the field of offers. Today, all VGB lines are subject to continuous fares which can be easily determined by means of zones.
Safety and comfort
Ensuring optimum mobility for the region requires vehicles that meet the high standards of safety and comfort at all times.
Bentheimer Eisenbahn AG operates more than 80 of its own passenger-friendly buses every day, enabling passengers to travel in comfort. Through our own modernly equipped bus workshop, we guarantee our passengers the greatest possible reliability. Our bus drivers are regularly trained and are therefore a competent contact for all passengers.
Securing the future
We contribute our many years of experience to the local transport planning of the county of Grafschaft Bentheim in order to place our customers and passengers at the center of future developments.
Our previous goal remains our goal: to offer the people of the region a local transport service that remains affordable, protects the environment, is fast – safe – comfortable and punctual and makes it easier for people to choose the bus at any time.
In recent years, Bentheimer Eisenbahn AG has helped to secure the future by building the central depot in Nordhorn. From here, today and in the future, all planning for securing and expanding local public transport will take place so that Bentheimer Eisenbahn AG remains a piece of Grafschaft Bentheim for the benefit of the region.
Transport from A to Z
Europe, and Germany in particular, are among the most important sales markets in the world today. Companies that produce or distribute their products in Europe must have optimum logistics processes in place. The associated requirements presuppose innovative concepts.
Bentheimer Eisenbahn AG has been an important partner of the local economy for many years. Together with our subsidiary, Spedition Kraftverkehr Emsland GmbH, we offer our customers competent, comprehensive and reliable services as the basis for an optimal and successful sales policy. In cooperation with DB Cargo or Cargo Rail Europe we offer an optimal transport chain between rail and road.
For many years, Bentheimer Eisenbahn AG has been connected to the international freight traffic center (GVZ) in Coevorden/NL via its track network. All modes of transport of the GVZ are integrated into the bundling of logistical activities. In this way, we guarantee the safe and reliably scheduled transport of goods. In addition, we create an optimization of logistics and synergies for the benefit of our customers. Bentheimer Eisenbahn AG and its local employees stand for competence and reliability in every respect. Together with the forwarding companies represented at the site, we offer customers ideal conditions for realizing their logistical potential.
With more than 120 years of experience in the transport sector, we offer you the advantages for your transports:
Combined transport, conventional transport with the linking of rail & road
Own railroad fleet, wide range of wagons for different products
Offer of door-to-door transport with the involvement of our forwarding agency
Tailor-made and thus economical transport solutions up to your very individual distribution requirements